Hello everyone,
We will resume classes once again on the 19th of June with a scheduled 'soft launch'. For this soft launch, there will be no sparring/kiai during class and masks need to be worn at all times. Do refer to the last announcement made on Whatsapp on the 11th of May for the full list of measures/guidelines that we will all need to adhere to in order to run this soft launch well.
Once the all clear has been given for indoor sports activities to resume without the need for masks after the 21st of June, we will update you on Whatsapp once again. When this happens, we hope to see everyone attending classes and resuming training with full rigor as we did prior to the break.
Most of you have been doing this martial art for several years now and probably understand that we are big on empowering people. This empowerment comes in several forms, such as technique, the running of classes and overcoming the fear of public speaking. These are all positive things which we can all be more proud about.
In looking to develop the next generation of leadership within NihontoDo, we would like to take this opportunity to formally announce that Senpai Amirul has been appointed the Head of Module (HoM) for Iai-Bokuto. With this appointment, Senpai Timothy, Senpai Tracy and Senpai Amirul will all be joining Sensei Quinton on the Executive Committee, reporting to the Supreme Council for various matters.
Furthermore, all active HQ practitioners at the level of Black Belt and above will be appointed to the Central Committee. At the direction of the Executive Committee and Supreme Council, we will be charting the next chapter of NihontoDo's growth together. This includes reviewing how we've done certain things and improving on them, like how any agile organisation should. With that, here is the updated Clan Leadership Chart.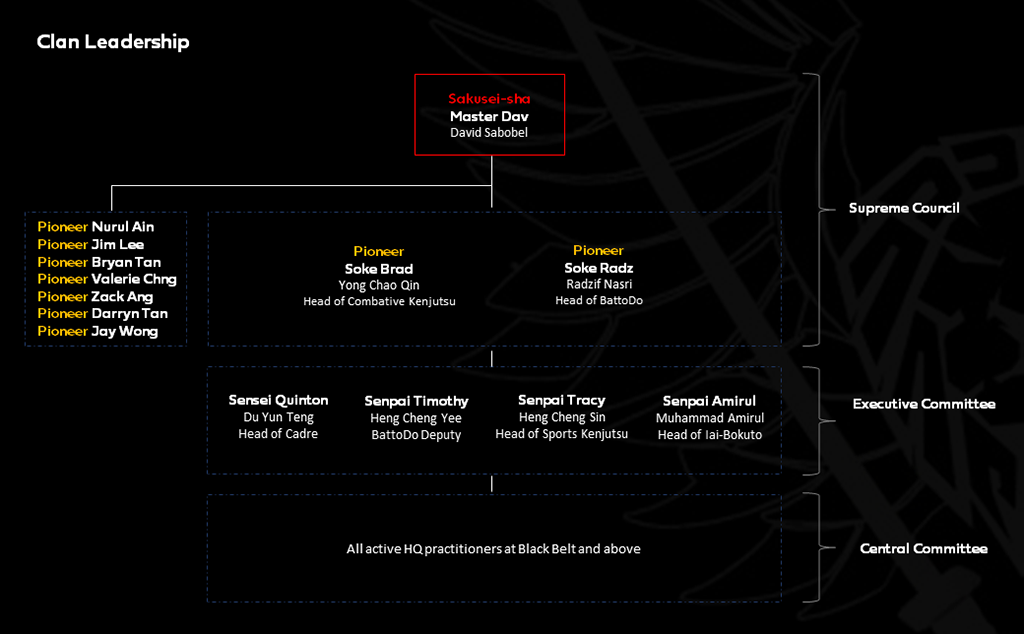 This art has grown from strength to strength over the last one year during a particularly difficult time for the country and the world at large. We hope that with this set of changes to our organisational structure, we will be at a much stronger position to tackle the challenges of the future.
Before I close off this mid-year address, I would also like to thank all of you for staying with us during this entire period. Do take good care of your health and vaccinate yourselves as soon as possible so that we can all ride this wave safely together.
Regards,
Master Dav